The egg tray production line also called the automatic paper pulp egg tray plant, which mainly consists of four parts: paper pulp mixer, egg tray molding machine, egg trays drying machine, and egg trays packaging machine. This industrial egg tray production line can turn many waste paper, newspapers, waste cartons, and paper boxes into egg trays, fruit trays, coffee cup trays, disposable paper lunch boxes, etc.
We have exported to many foreign countries. For example, Nigeria, Zambia, Cameroon, and so on. Zhengzhou Shuliy Machinery Co., Ltd has been We have been engaged in the egg tray machine industry for ten years, with rich production experience and advanced technical support. We also have sent our engineer to our customer's city to install the machine. In addition, our engineer can help you to design the factory drawing according to the actual situation. Paper egg tray price is also a major concern for people.
industrial Egg tray production process
The production process of using the egg tray production line to process egg trays mainly includes the waste paper collection, pulp production, pulp dilution, egg tray forming, egg tray drying, egg tray sorting, and packaging.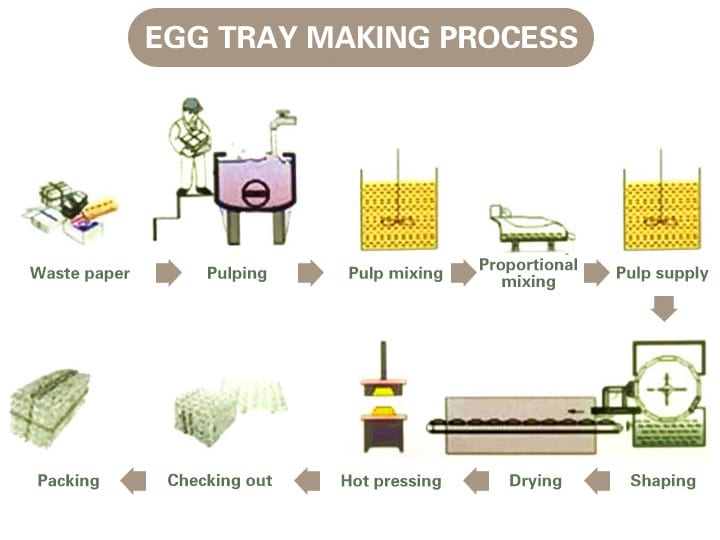 Raw materials for making paper pulp egg trays
The raw materials used to make egg trays are usually all kinds of waste paper, waste newspapers, cartons, cartons, waste exercise books, advertising paper without plastic, etc.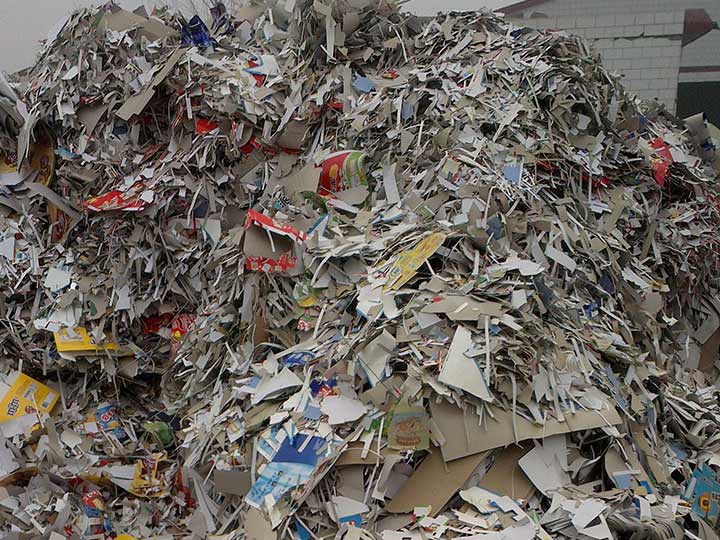 paper pulp mixer
The paper pulp mixer, namely the paper pulping equipment, is the necessary parts and the first parts of the pulp molding. Old newspapers, impurities, cardboard boxes, and other waste papers are processed into a certain concentration of slurry, which is used for molding.
The paper pulping equipment mainly consists of a hydra pulper, vibration screen, consistency control, thrusher, pulp pump, water pump, and control box. According to customer different requirements, can add a pressure screens, refiner, and so on.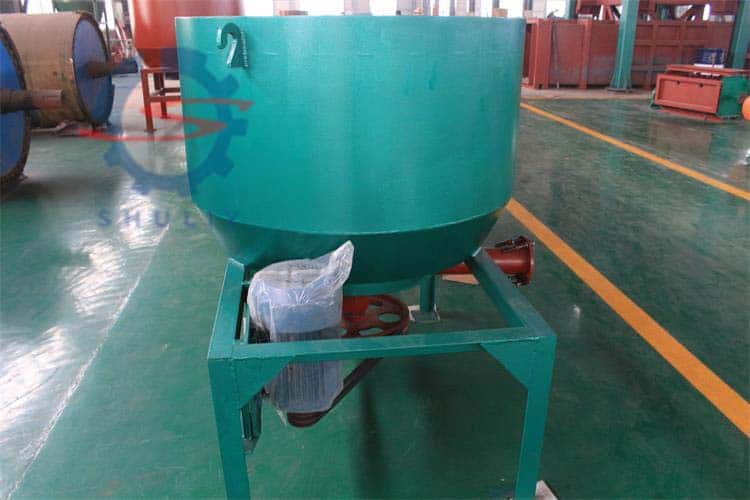 Egg tray making machine
Egg tray making machine is the main machine for the whole production line. This part mainly consists of a transfer mold and forming mold. Through vacuum function, the pulp is fixed on the forming mold uniformly, then the transfer mold sends the egg tray to the dryer system to dry. Or you can choose a natural dry method.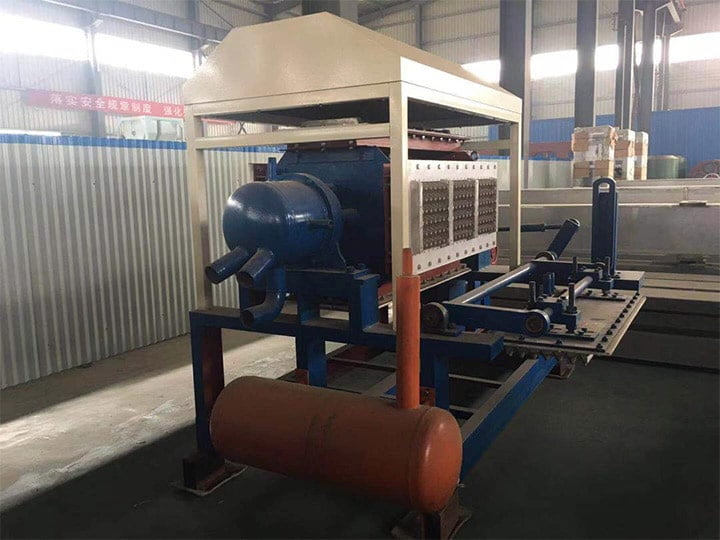 The egg tray mold is made of aluminum and plastic, and the mesh is made of stainless steel. If you make a shaped abrasive, it must be an aluminum abrasive. We have customers of the egg tray making in south-Africa. If you want to see this machine, we can ask him for help.
Egg tray dryer machine
Egg trays drying mainly including four methods. The first is natural drying. This way is only suitable for very small capacity of the paper egg tray, which can save lots of energy and power.
The second way is that use the cart. Put the egg tray on the cart, which can save much space and electricity. The third is to use brick to dry. This is a very cost-effective drying method. And it is suitable for a slightly large yield.
The last one is the egg trays drying machine, which is the most efficient. We can provide the factory drawing for different requirements of different customers. If the capacity is 1000pcs per hour, the length of the brick kiln needs about 20m. If the capacity is larger, the length of the brick kiln needs about 40-50m.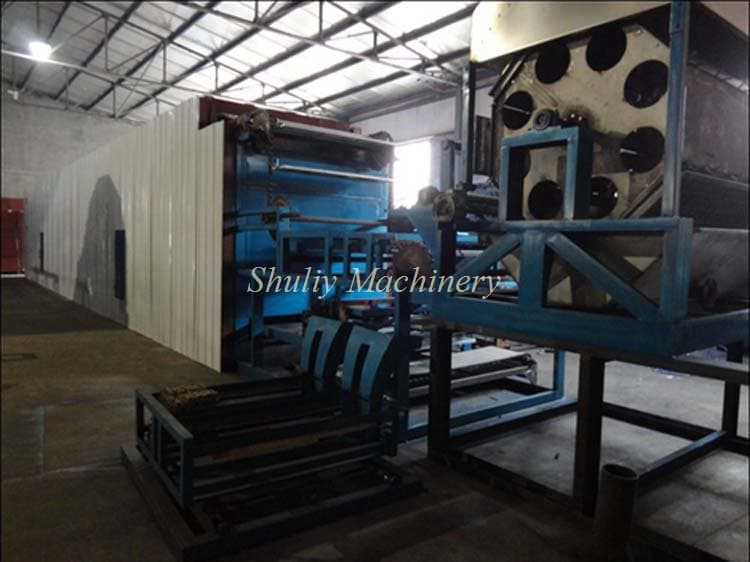 Egg Tray Packaging machine
We can get the finished product after pulping equipment, egg tray molding equipment, and egg tray dryer. Then the finished paper egg tray can be packed for storage.
Advantages of the egg tray production line
1.The raw material is easy to collect – waste paper
The waste newspaper, carton, impurity, packing paper, book paper, and other waste paper are very common in our daily lives. Generally, the waste paper refers to renewable resources that have been discarded after being used in production and life. So it is easy to collect. Also, the cost of collecting waste paper is relatively low. Waste paper recycling not only saves costs but also protects the environment.
2.Full automatic production can reduce the cost
Egg tray production line is a fully automatic production line. One production only needs 3-5 people to operate, which greatly reduce labor costs. All parts of the egg tray production line are in close connect.
3.Broad sales prospects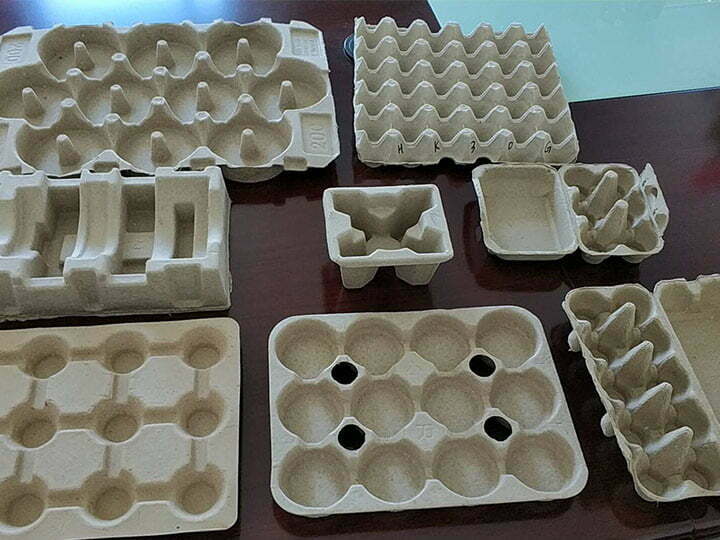 Paper egg tray is widely used in the various field. Such as egg carton, fragile produce in recent time, fruit tray and so on. Because it is no pollution for the environment. The egg tray also suitable for various products. So the demand for this product is very large.
4.Large production capacity
Egg tray production line can work continuously. More plates, more capacity. The maximum output is 8000 in one hour. The higher the output, the faster the recycling cost.
Zhengzhou Shuliy Machinery has rich experience to produce the egg tray. Egg tray making machine price is quite reasonable. Egg tray production line has so many advantages that it's a good choice for people to invest.
Finished egg trays display
The commercial egg tray production line can be used to process various specifications of egg tray products, and the number of eggs placed on the egg tray can be customized. The common ones are 4 egg trays, 6 egg trays, 8 egg trays, 12 egg trays, and 20 egg trays. Egg trays, 30 egg trays, etc.