1 Side Egg Tray Machine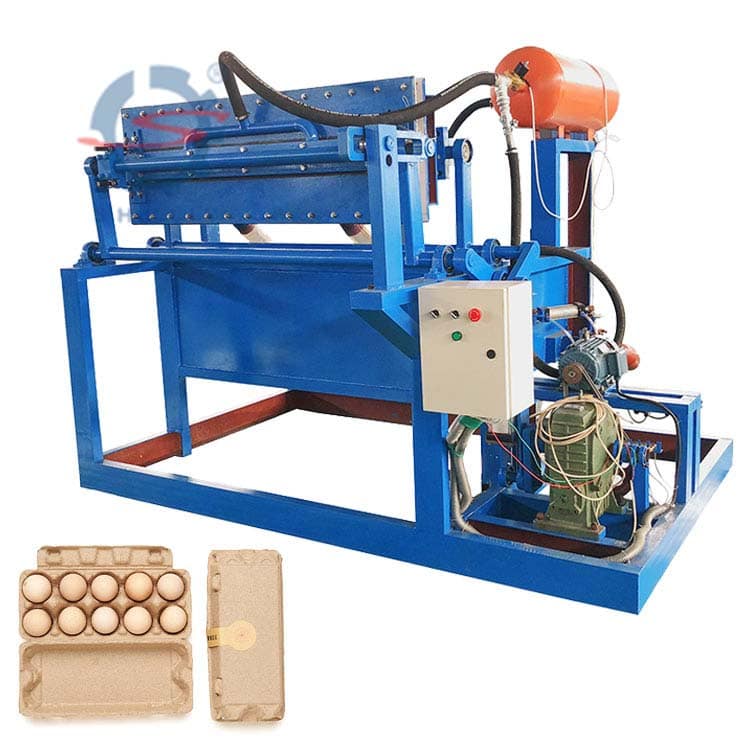 Parameters
You can now ask our project managers for technical details
Zhengzhou Shuliy Machinery Co., Ltd is specialized for egg tray machine. We have over ten years of experience to make and export egg tray. Therefore, we have perfect pre-sales and after-sales service. We are able to produce a wide variety of egg trays and make a variety of molds. Because the egg tray can be used for various field. We can customize the tray mold according to the customer's requirements. The different product needs a different shape egg tray. It includes semi-automatic and fully automatic type. We also can design factory design reasonable drawings for our customer according to the different requirements of different customers.
Working video of egg tray machine
1 Side Egg Tray Machine
This machine is the main machine for the whole production. This model is a semi-automatic egg tray machine. Small capacity uses less electrical power, which is suitable for small-scale production. More plates, less water use. For this model, the user can choose natural drying to dry the egg tray, which can save a lot of electricity cost. Of course, the waste paper needs to be smashed before forming. The pulp-making machine is to smash the paper into pulp. It needs to add some water when smashing. This machine mainly consists of a transfer mold and forming mold.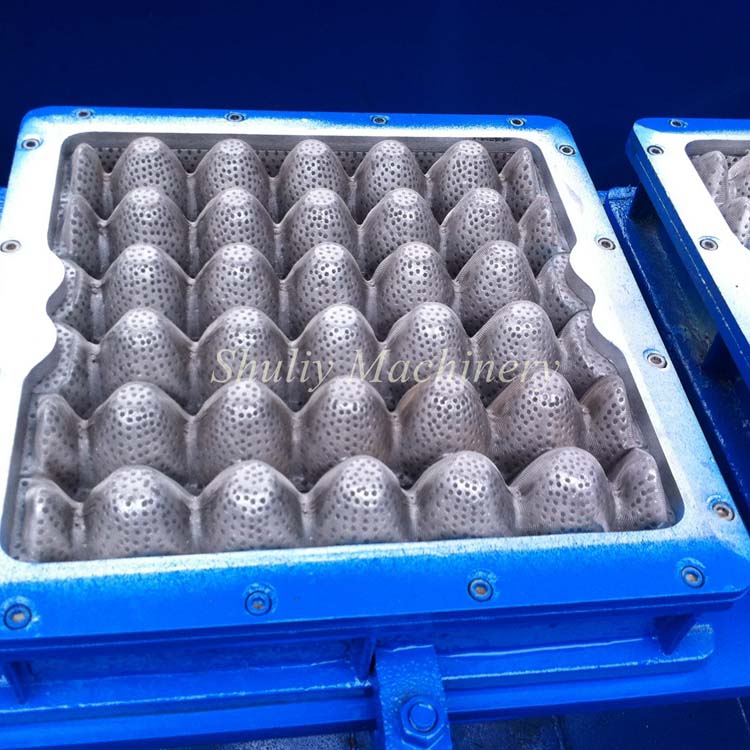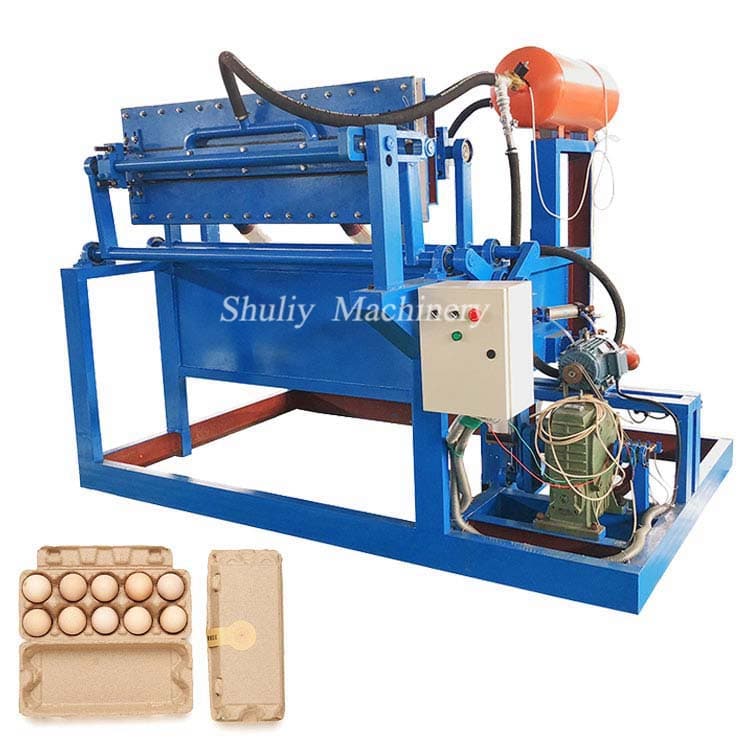 Raw materials of egg tray making equipment
The raw materials of egg tray making machine are usually waste newspaper, kraft paper, corrugated paper and so on. In the production and processing process, it is mainly a physical reaction. Some waterproofing agents can be added according to customer needs. After the products are dried, these waterproofing agents are basically all retained in the finished product, and no dyeing is discharged. Therefore, the raw materials of the egg tray machine are very environmentally friendly.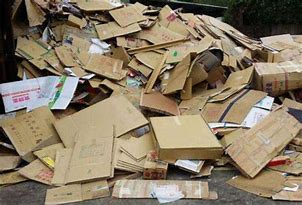 Technical Parameters of the 1 Side Egg Tray Machine
| | | | | | |
| --- | --- | --- | --- | --- | --- |
| Model | Capacity | Water paper | Water consumption | Electricity consumption | Worker |
| SL-3*1 | 1000-1500pcs/h | 120kg/h | 300kg/h | 32kw/h | 3-4 |
| SL-4*1 | 1500-2000PCS/h | 160kg/h | 380kg/h | 45kw/h | 3-4 |
Difference between semi-automatic and fully automatic egg tray machine:
The biggest difference between the semi-automatic and fully automatic models is the drying method. Because the semi-automatic egg tray machine has a small capacity, the dry way can adopt the natural drying way. On the contrary, The output of fully automatic machines is large, so the egg tray needs to be dried by the dryer. Natural drying time is long and slow, which is not suitable for large-scale production. For fully automatic production, you can choose a single-layer metal dryer line or a multi-layer metal dryer line to dry the egg tray.
Drying method of the Model 1 Side egg tray machine
Due to the small capacity for this model, the drying method can choose natural drying. Some beginners start to do this business, but have fewer funds, they can choose natural drying to control costs. Usually, the egg tray can be dried by the sunlight within one day. Also, the weather temperature needs over 38℃. This kind of drying method also can save lots of electricity. Of course, we also produce small carts, which greatly saved space. It is easy to operate. The most important is that it decreases your cost.
The other drying method is using a egg tray drying machine, which is made of metal, the egg tray dryer uses coal, fuel or electricity as the heat source. The molded egg trays will be dried in hot air.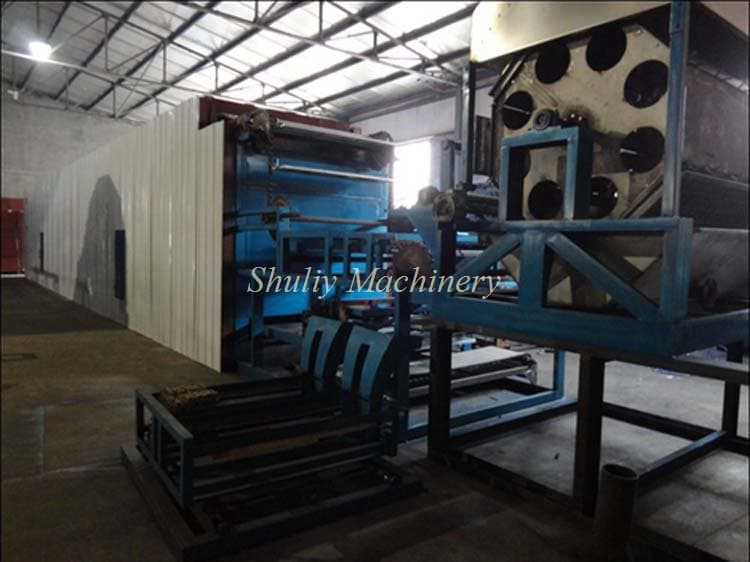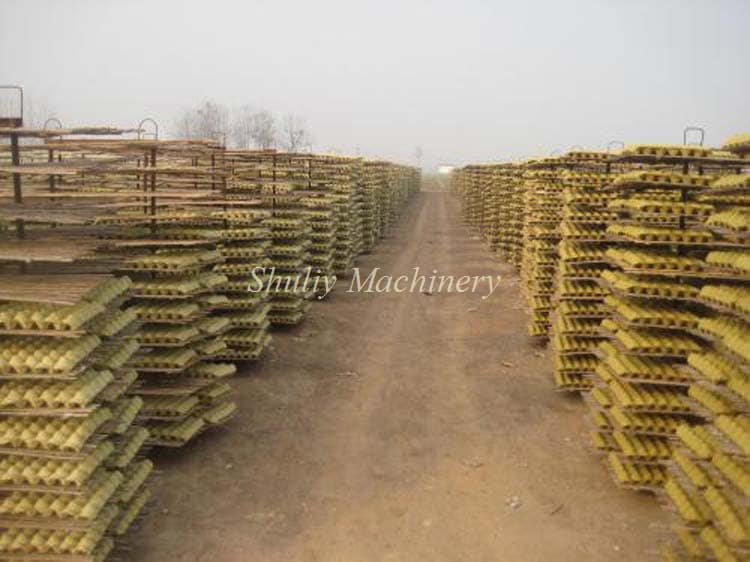 Successful cases of ehh tray machine
Our machine has been exported to many foreign countries, such as Nigeria, Morocco, Kenya, Cameroon, Zambia, Indonesia, Saudi Arabia, India, etc. 1 Side Egg Tray Machine small model is suitable for beginner who wants to start this business. We can teach you how to operate and also design a reasonable drawing for you. Also, the medium and large capacity model is also provided.