4 side egg tray machine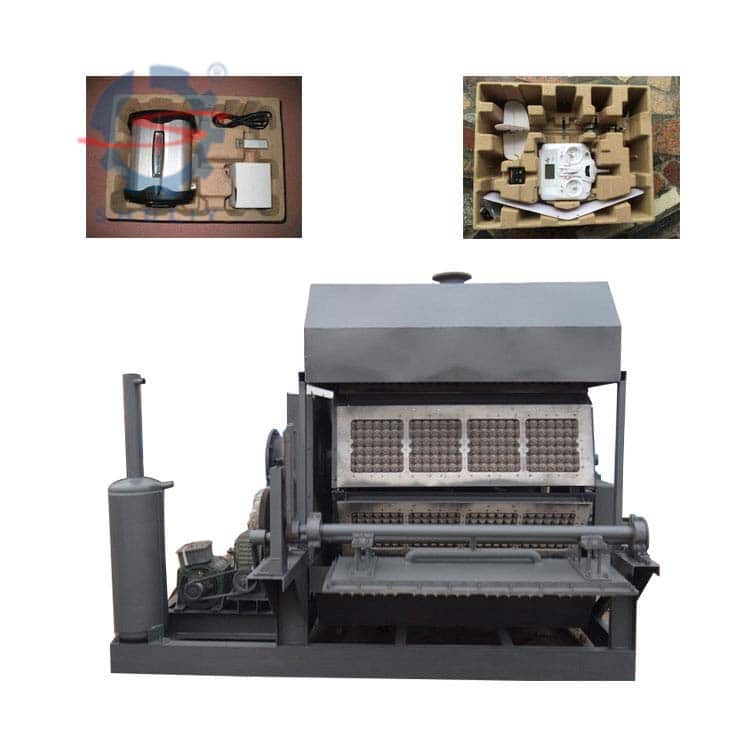 Parameters
You can now ask our project managers for technical details
Egg trays are mainly used for packaging eggs such as eggs and duck eggs. Its main function is to absorb vibration and reduce the damage of fragile materials during transportation. It is the main machine to produce egg tray.
Whole production process
Waste paper – pulping – pulp mixing – sifting – pulp supply – shaping – drying – integer – check out – package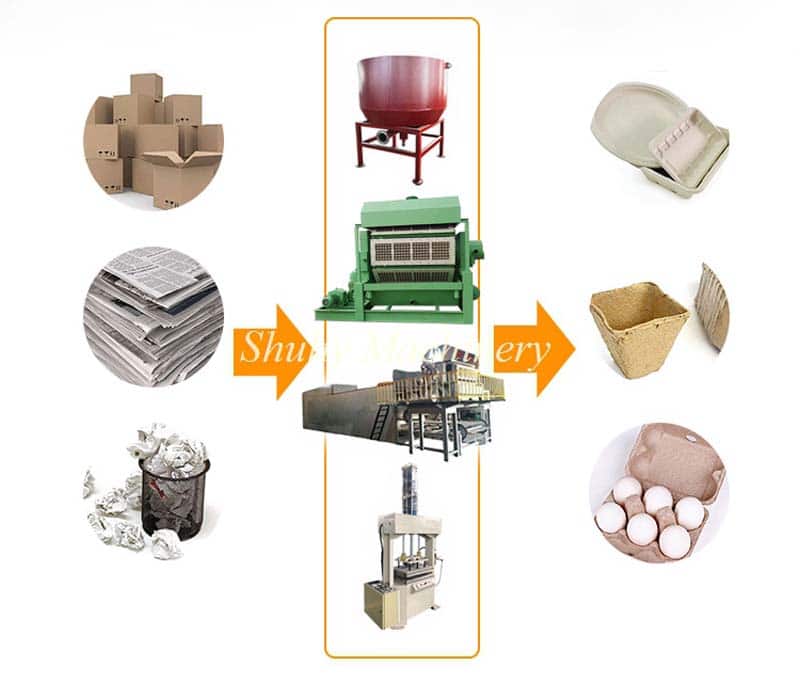 4 side egg tray machine parameter
| | | | | | |
| --- | --- | --- | --- | --- | --- |
| Model | Capacity | Water paper | Water consumption | Electricity consumption | Worker |
| SL-3*4 | 2000-2500pcs/h | 200kg/h | 450kg/h | 58kw/h | 4-5 |
| SL-4*4 | 3000-3500pcs/h | 280kg/h | 560kg/h | 78kw/h | 4-5 |
SL-3*4 Egg Tray Machine

SL-4*4 Egg Tray Machine
Introduction of model SL-3*4
Model SL-3*4 can produce about 2000-2500pcs per hour. This machine has four plates. The plate is constantly rotating. Therefore it can save lots of time to wait. It is a rotating machine, multi forming boards, one transfer boards. This design will improve efficiency and add capacity and profit greatly compared with titling machine.
Model SL-4*4 can produce about 3000-3500pcs egg tray per hour. This model has four plates. It needs about 4-5 people to operate the whole production. If the user wants to make different color egg trays, just add color into the pulp pool. The pulp color will change after stirring. The shade of the color is related to the proportion of color and the pulp.
Advantages of the 4 side egg tray machine
Labor cost saving: The four side egg tray machine is a full production line, which only needs 5-6 people to operate it. It greatly saves labor cost and improves working efficiency. Labor costs are particularly expensive in some countries. So automated production will greatly reduce production costs.
Cheap raw material: The raw material to make various egg tray is mainly all kinds of waste paper. Such as waste book, waste newspaper, waste paper and so on. The waste is quite cheaper, which greatly decrease the cost. The model four sides can use these materials to form the egg tray.
Broad sales market: The egg tray can be used in various fields. This machine can make a various shaped product, such as egg tray, fresh fruit tray, electric inner tray, a fragile product tray, farm tray, food and medical packing, medical product, special industry tray packaging, etc. So the egg tray has a large sales market.
Mature service of pre-sales and after-sales
Zhengzhou Shuliy Machinery has been produced the whole production line for over ten years and we have mature technology and experienced worker. So we can customize the machine according to the customer needs. Such as voltage changing, mold customizing, drawings design, etc. We can send workers to your city to install the machine. Our worker can help you design the factory drawing according to the customer's actual situation.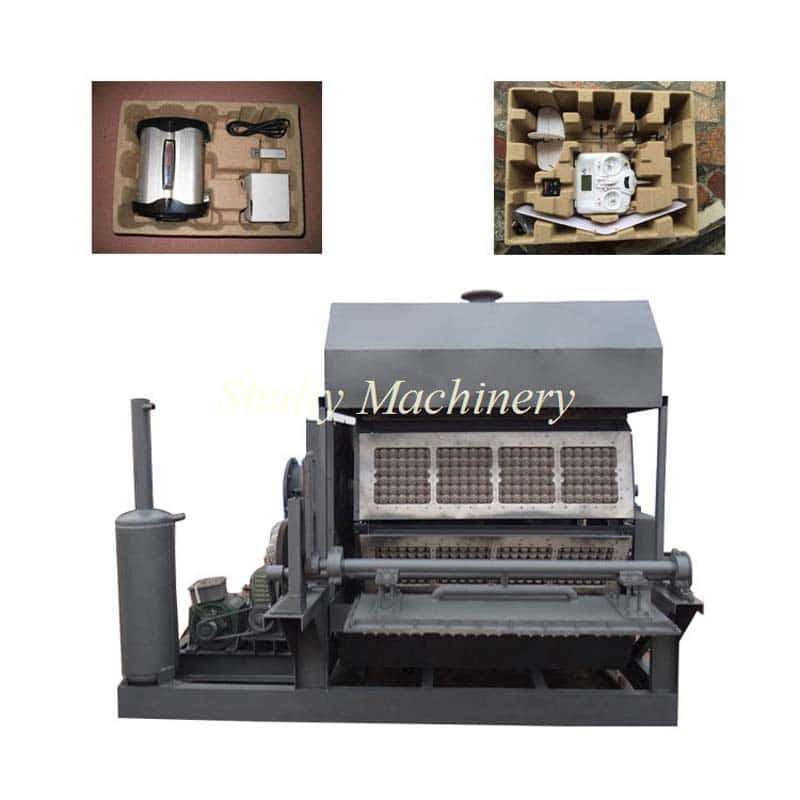 Drying method of the 4 side egg tray machine
For the four side egg tray machine, there are many drying methods. For example, you can choose natural drying if you have enough space to place the egg tray, which is the most cost-effective. Also, you can choose the brick drying line with small cart or a conveyor belt. Relatively speaking, most people will choose the brick drying line because of the cost saving. Or we can provide the metal drying box to dry the egg tray. This is the most efficient drying method. Anyway, Zhengzhou Shuliy Machinery will provide our best and professional service for you. Welcome to contact us!