Egg tray packing equipment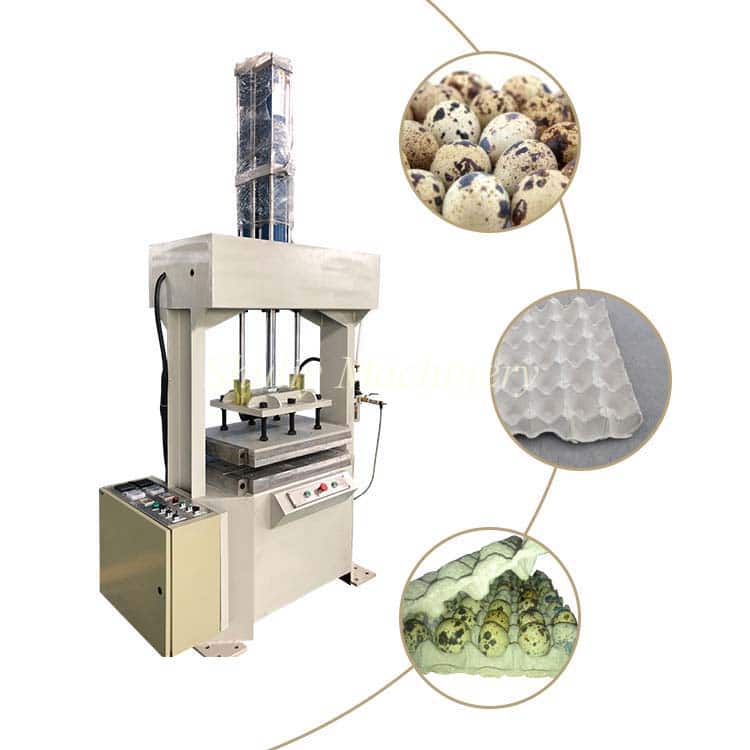 Parameters
You can now ask our project managers for technical details
Egg tray packing machine is a machine for arranging egg trays. Packing is the last step in the egg tray production line. Zhengzhou Shuliy Machinery not only produces egg tray making machine but also produces the related products, such as egg tray making machine, egg tray drying machine and so on. With rich production experience and professional technology, the egg tray packing machine has been well received by customers as soon as it comes on the market. The packed egg tray covers a small area and is easy to transport.
Egg Tray Packing Equipment

Egg Tray Packing Equipment
Advantages Of The Egg Tray Packing Machine
The dried egg tray is very fluffy, so compaction is needed to save transportation space. Compared with manual packaging, using this machine to pack egg trays can not only improve packaging efficiency but also reduce transportation costs to a greater extent. This machine is a good choice for mass production or small batch production.
What's more, this machine is easy to operate and one person can operate it.
Why chooses Zhengzhou Shuliy Machinery
Zhengzhou Shuliy has been producing egg trays for ten years. Our company's dozens of products (include this machine) are exported to different countries overseas and have received unanimous praise from buyers. With mature technology and experienced workers, we continually improve our technology and overcome all kinds of difficulties in order to maximize the benefits of our customers. On the road of growth, we have overcome many problems, and these valuable experiences will help us to provide you with better help.
Successful case about egg tray packing machine
Kunal in India owns a small egg tray factory and wants to upgrade his factory in recent years. After buying some new egg cartons machines, he found that the packing speed of the egg tray was far behind that of the eggshell making. At first, he increased his investment in human resources but found that the problem remained unsolved. Then he contacted our company and bought the egg tray packing machine. The purchase of this machine saved Kunal a lot of time and space and brought better benefits to his factory. As a result, he is more trusting in our company and our products
Environmentally friendly egg tray packing machine
The whole production line not only promotes the secondary use of waste paper but also meets the general requirements for protecting the environment. In recent years, people have paid more and more attention to the protection of the environment. Environmentally friendly products are the first choice for people to choose products. Therefore, egg trays have a large sales market. And the egg trays come in a variety of forms. For example, egg, fruit, electronic product, fragile product, farm products, food and medical product packing, medical product and special industrial paper packing and so on.
To sum up, if you want to know more about the egg tray machine, pls leave messages below. Our professional sales consultant will reply to you as soon as possible!